TOTAL FVCKIN REITERMANIA - NEUER TERMIN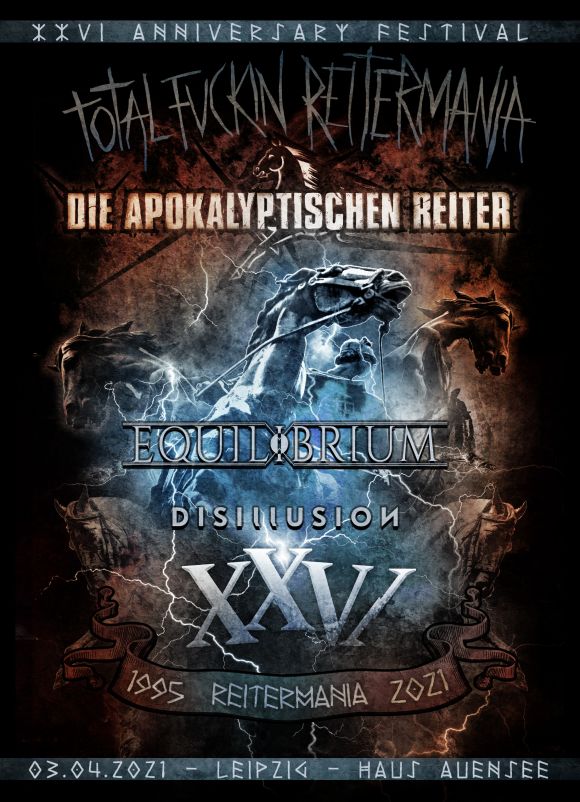 TOTAL FVCKIN REITERMANIA
XXVI JADE ANNIVERSARY TICKETS KAUFEN
Schweren Herzens müssen wir unsere 25 Jahre Geburtstagsfeier in Leipzig verschieben. Die nach wie vor völlig unklare Situation bezüglich Corona, schwammig definierte Hygienekonzepte lassen eine seriöse Planung nicht zu. Die damit verbundenen Risiken können wir nicht tragen, ebenso wenig möchten wir euch länger hinhalten. Da wir keine Lust haben, unser Bandjubiläum als Streaming-Event zu veranstalten, sind wir froh, dass wir einen Ersatztermin ankündigen dürfen.
Samstag, 03. April 2021 – LEIPZIG - Haus Auensee
Alle bisher gekauften Tickets behalten ihre Gültigkeit.
Wir freuen uns, dass nun auch EQUILIBRIUM als Co-Headliner auf unserer 26th- Anniversary-Show spielen werden. Schon oft haben sich unsere Wege mit den Franken gekreuzt und wir sind sicher, dass Robse & Co. mit offenen Armen von euch in Leipzig begrüßt werden.

With a heavy heart we have to postpone our 25th anniversary celebration in Leipzig. The still completely unclear situation regarding Corona, spongy defined hygiene concepts do not allow for serious planning. We can't bear the risks involved, and we don't want to put you off any longer either. Since we don't feel like organizing our band anniversary as a streaming event, we are happy to announce an alternate date.
Saturday, 03 April 2021 - LEIPZIG - Haus Auensee
All tickets purchased so far remain valid.
We are happy to announce that EQUILIBRIUM will now also play as co-headliner on our 26th Anniversary-Show. Our paths have often crossed with the Franconians and we are sure that Robse & Co. will be welcomed by you in Leipzig with open arms.